Free UK delivery for orders over £50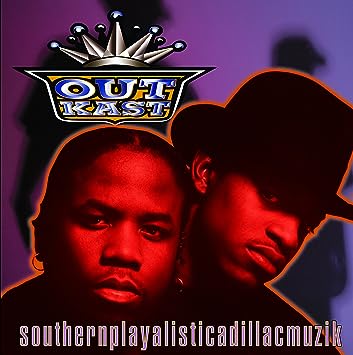 Southernplayalisticadillacmuzik
"Southernplayalisticadillacmuzik" stands as the inaugural studio album by American hip hop duo OutKast, unveiled in 1994. This masterpiece not only garnered critical and commercial triumph but has etched its place as a cornerstone in the annals of Southern hip hop history.
With an intricate fusion of Southern hip hop, funk, and soul, the album illuminates the duo's distinctive auditory identity through Organized Noize's production. Encompassing chart-toppers like "Player's Ball" and "Git Up, Git Out," the album reached the top 40 of the Billboard Hot 100.
Commendation for its avant-garde sound, OutKast's lyrical prowess, and Organized Noize's production prowess has flowed generously. Rolling Stone christens it "a groundbreaking album that helped to define Southern hip hop." Pitchfork crowns it a sentinel of the 1990s, while The New York Times lauds its stunning influence.
In the eloquent words of Steve Huey from AllMusic, "'Southernplayalisticadillacmuzik' emerges as an emblematic milestone in the realm of Southern hip hop. OutKast's ingenious amalgamation of Southern funk, soul, and hip hop was revolutionary, heightened by the album's impeccable production."
For devotees of hip hop, this piece is an imperative auditory voyage. Branding itself as a defining masterpiece in Southern hip hop history, "Southernplayalisticadillacmuzik" not only broadened the genre's horizons but also emanated a significant influence. Resonating as vigorously today, it remains an everlasting emblem of hip hop's essence.
Tracklist
A1 Peaches (Intro)
A2 Ain't No Thang
A3 Welcome To Atlanta (Interlude)
A4 Southernplayalisticadillacmuzik
A5 Call Of Da Wild - feat The Goodie MoB
A6 Player's Ball (Original)
A7 Claimin' True
B1 True Dat (Interlude)
B2 Crumblin' Erb
B3 Funky Ride
B4 Git Up, Git Out - feat The Goodie MoB
B5 Hootie Hoo
Format: Vinyl, LP, Album, Reissue, Remastered, 180g
Receive this record and others like it when you join our monthly subscription box. We handpick records based on your tastes and our eclectic knowledge.