Free UK delivery for orders over £50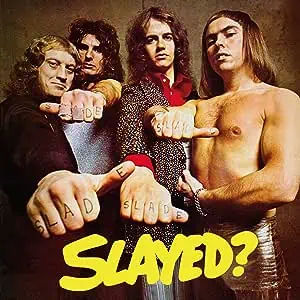 "Slayed?" is the third studio album released by the British rock group Slade in November 1972. It soared to No. 1 in the UK charts, holding its position for 34 weeks and achieving a Silver certification in early 1973. In the US, the album also marked their most successful record of the 1970s, reaching No. 69 and remaining on the charts for 26 weeks. Similarly, it gained popularity in Australia, claiming the No. 1 spot and earning a Gold certification, displacing the band's live album "Slade Alive!" to the No. 2 position. The album's production was overseen by Chas Chandler.
After their breakthrough hit with "Get Down and Get With It" in 1971, Slade continued their success streak with singles like "Coz I Luv You," "Look Wot You Dun," and "Take Me Bak 'Ome." The live album "Slade Alive!" also performed well, reaching No. 2 on the albums chart. Building on this momentum, they recorded their next studio album, "Slayed?". The lead single "Mama Weer All Crazee Now" was released in August 1972 and became another UK chart-topper. Following in November, "Slayed?" itself reached No. 1. A second single, "Gudbuy T'Jane," also released that month, made it to No. 2 in the UK.
Additional tracks like "The Whole World's Goin' Crazee," offered as a free 7″ Flexi disc with the Music Scene magazine, kept the band's presence alive. The single "Let The Good Times Roll" was released in the US, reaching No. 114. "Move Over" was released as a single in Japan.
Noteworthy tracks on the album include "How D'You Ride," originally considered for release as a single, and "I Won't Let It 'appen Agen," featuring drummer Don Powell's spontaneous shout at the start. "Gudbuy T'Jane" was inspired by guitarist Lea's experience in San Diego and frontman Holder's encounter with a woman named Jane who demonstrated a sex machine on a TV show. "Mama Weer All Crazee Now" took inspiration from a bouncer's story of another drunk act at a Lincolnshire show.
The album received positive reviews upon its release. Record Mirror praised it for its energetic and assertive nature. New Musical Express hailed it as one of the greatest rock 'n' roll releases ever. American rock critic Robert Christgau praised the boot-boy anthems and Noddy Holder's powerful performance. In 2010, Classic Rock magazine deemed the album an "essential classic," while The Guardian highlighted its catchy tracks and touching ballads.
"Slayed?" secured a place in the book "1001 Albums You Must Hear Before You Die," solidifying its status as a significant musical work.
Tracklist
A1 How D'You Ride
A2 The Whole Worlds Goin' Crazee
A3 Look At Last Nite
A4 I Won't Let It 'Appen Agen
A5 Move Over
B1 Gudbuy T' Jane
B2 Gudbuy Gudbuy
B3 Mama Weer All Crazee Now
B4 I Don' Mind
B5 Let The Good Times Roll
Catalogue No.: 4050538659290
Format: Vinyl, LP, Album, Reissue, Stereo, Yellow and Black splatter
Receive this record and others like it when you join our monthly subscription box. We handpick records based on your tastes and our eclectic knowledge.