Free UK delivery for orders over £50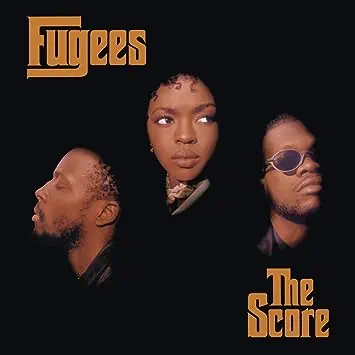 "The Score," the second opus from the American hip hop trio Fugees, graced the auditory realm in 1996, etching its name in both critical acclaim and commercial triumph. This masterpiece, a sonic tapestry that effortlessly interwove genres, sold over 20 million copies across the globe and secured the prestigious Grammy Award for Best Rap Album.
The alchemical process transpired within the hallowed walls of the Hit Factory in New York City, under the stewardship of the Fugees themselves and the skilled hands of Salaam Remi. "The Score" stands as a seamless fusion of hip hop, soul, reggae, and R&B, impeccably showcasing the group's sui generis sonic identity.
Within the album's constellation of tracks, the resplendent singles "Ready or Not," "Killing Me Softly," and "No Woman, No Cry" cast their enchanting spell upon listeners. These melodic gems, imbued with lyrical depth, soared to the upper echelons of the Billboard Hot 100 chart.
The album has garnered accolades for its audacious sound, the Fugees' lyrical prowess, and the masterful production by Salaam Remi. A hallowed position awaits it on Rolling Stone's list of the 500 Greatest Albums of All Time, at number 33.
The sentiment echoed by Kelefa Sanneh of The New York Times encapsulates the essence of the opus:
"'The Score' emerges as a staggering achievement, a labyrinthine composition that unravels its treasures with each successive listen. The Fugees' lyricism is incisive and sly, harmoniously interwoven with the lush and evocative production crafted by Salaam Remi."
The album's laurels encompass its audacious sound, the Fugees' lyrical dexterity, and the expert craftsmanship of Salaam Remi. A sonic rite for devotees of hip hop, "The Score" has enshrined its status as a timeless classic within the genre.
Tracklist
A1 Red Intro
A2 How Many Mics
A3 Ready Or Not
A4 Zealots
A5 The Beast
B1 Fu-Gee-La
B2 Family Business
B3 Killing Me Softly With His Song
C1 The Score - feat Diamond D
C2 The Mask
C3 Cowboys
D1 No Woman, No Cry
D2 Manifest / Outro
Catalogue No.: 19075883501
Style: Boom Bap, Conscious
Format: Vinyl, LP, Album, Limited Edition, Reissue, Orange
Receive this record and others like it when you join our monthly subscription box. We handpick records based on your tastes and our eclectic knowledge.