Free UK delivery for orders over £50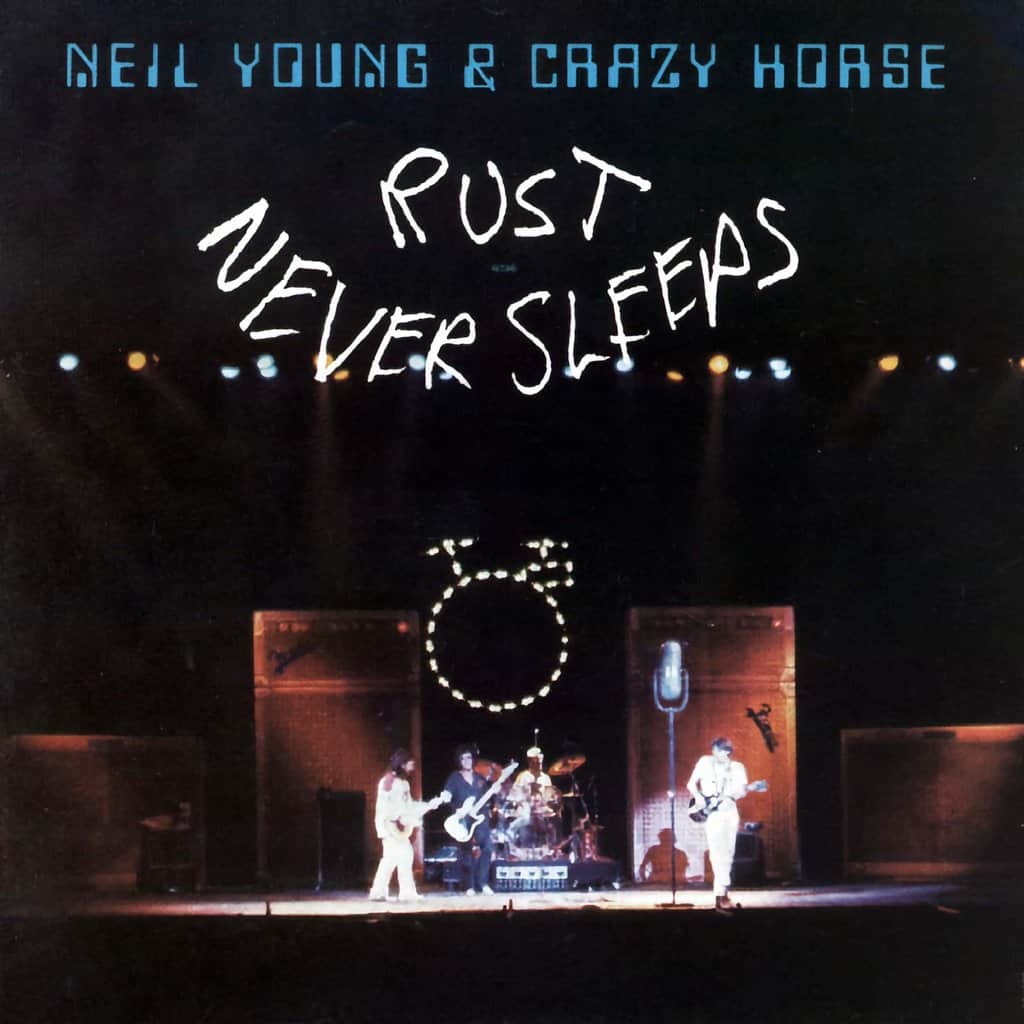 by Neil Young & Crazy Horse
Neil Young & Crazy Horse's "Rust Never Sleeps" is a remarkable double album that beautifully weaves two distinct styles: acoustic and electric. The acoustic side comprises stripped-down folk songs, while the electric side bursts with raucous rock and roll energy.
Neil Young has cited a number of influences for "Rust Never Sleeps," drawing inspiration from folk artists like Bob Dylan and Woody Guthrie, as well as rock and roll icons like The Rolling Stones and The Who. The album's creation was also influenced by the social and political unrest of the late 1970s.
The acoustic journey commences with the folk-rock anthem "My My, Hey Hey (Out of the Blue)," one of Young's most iconic tracks, perfectly setting the tone for the album's personal and politically charged sound.
On the acoustic side, other gems like "Powderfinger," "Sedan Delivery," and "The Needle and the Damage Done" showcase expertly crafted folk songs with unforgettable lyrics and melodies.
Flipping to the electric side, "Welfare State" roars to life, a rock and roll anthem calling for social justice. The raw and energetic sound on this side sets the stage for more standout tracks like "Cortez the Killer," "Hey Hey, My My (Into the Black)," and "The Losing End (When You're on the Street)," all masterfully crafted rock and roll songs with infectious melodies and memorable lyrics.
Top publications recognise "Rust Never Sleeps" as a classic in both acoustic and electric music, a masterpiece in Neil Young's discography, and a potent album with a perfect blend of personal and political themes.
The album exudes raw energy, capturing Neil Young & Crazy Horse's passionate performances and vocal prowess. The acoustic side echoes Young's earlier folk influences, while the electric side channels the essence of classic rock and roll.
Tracklist
A1 My My, Hey Hey (Out Of The Blue)
A2 Thrasher
A3 Ride My Llama
A4 Pocahontas
A5 Sail Away
B1 Powderfinger
B2 Welfare Mothers
B3 Sedan Delivery
B4 Hey Hey, My My (Into The Black)
Catalogue No.: 93624917571
Genre: Rock, Folk, World, Country
Style: Folk Rock, Hard Rock
Format: Vinyl, LP, Album, Reissue, Remastered, Stereo, undefined
Receive this record and others like it when you join our monthly subscription box. We handpick records based on your tastes and our eclectic knowledge.