Free UK delivery for orders over £50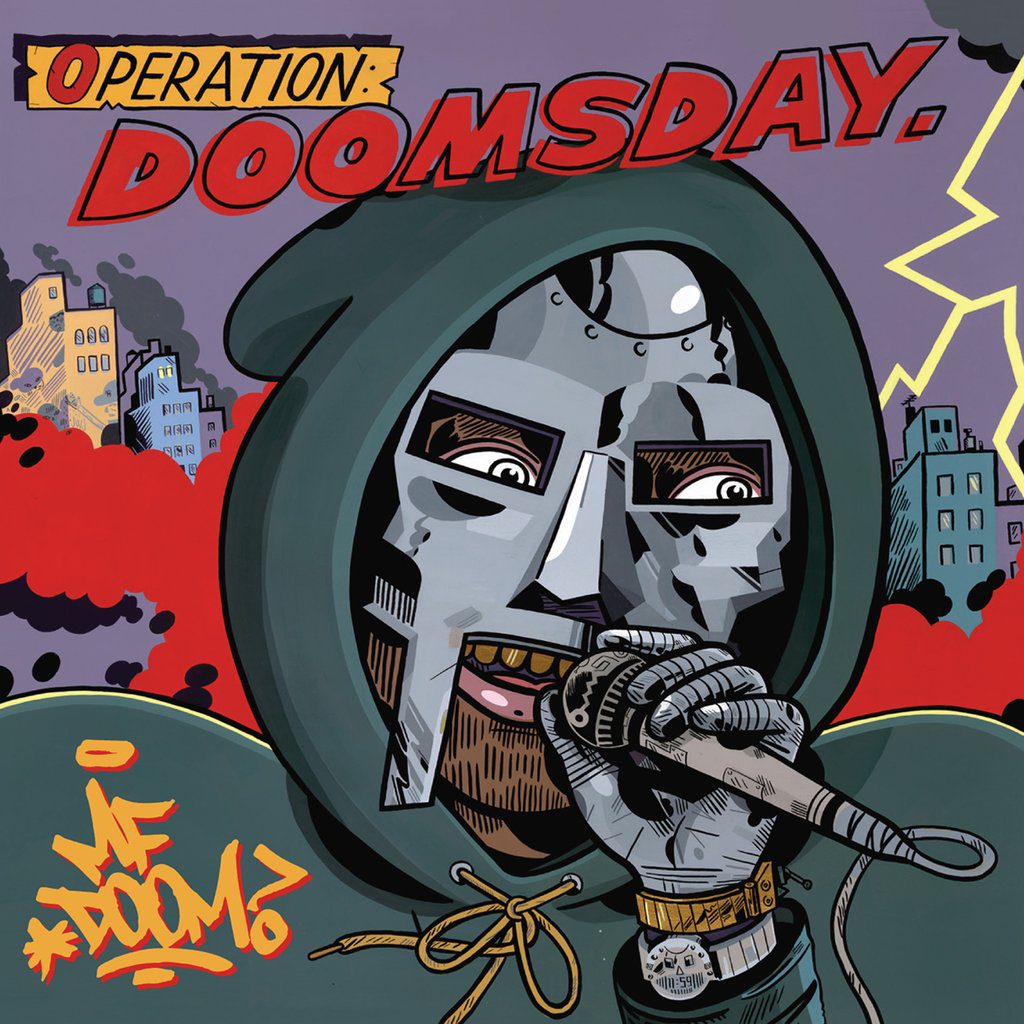 Operation Doomsday (Alternate Cover)
The sensational solo debut studio album from MF DOOM was released in October 1999. It is widely regarded as one of the most influential albums in independent hip hop history and marks his return after the demise of his group KMD, when DOOM's brother, DJ Subroc sadly passed away.
After the untimely death of his brother in 1993, MF DOOM, then known as Zev Love X, left the hip hop community and would suffer years of homelessness and despair. In 1997 he would re-emerge as MF DOOM, covering his face at shows with tights and masks. He released three singles under Bobbito Garcia's label, Fondle 'Em Records, generating enough buzz for Bobbito to agree signing DOOM for an album release.
Operation: Doomsday was produced by DOOM himself through bedroom production techniques and low-budget audio mixing; it draws some of its eccentric character from lo-fi production values, retaining minor flaws and imperfections, whilst DOOM often sampled cartoons mixed with drum breaks, soul, and jazz loops.
Upon its release, Operation: Doomsday garnered praise from contemporary music journalists, and has since achieved status as a cult classic. Alternative Press wrote the debut, "Places an insightful spin on Doom's history on the rap game … the mish-mashed musical styles that MF incorporates lend a bit of variety, and the generally lo-fi production values give the album character."
Tracklist
1. The Time We Faced Doom (Skit)
2. Doomsday Feat. Pebbles The Invisible Girl
3. Rhymes Like Dimes Feat. DJ Cucumber Slice
4. The Finest Feat. Tommy Gunn
5. Back In The Days (Skit)
6. Go With The Flow
7. Tick, Tick... Feat. MF Grimm
8. Red And Gold Feat. King Ghidra
9. The Hands Of Doom (Skit)
10. Who You Think I Am? Feat. King Ghidra, Kong, K.D., Megalon, Rodan, X-Ray
11. Doom, Are You Awake? (Skit)
12. Hey!
13. Operation: Greenbacks Feat. Megalon
14. The Mic Feat. Pebbles The Invisible Girl
15. The Mystery Of Doom (Skit)
16. Dead Bent
17. Gas Drawls
18. ? Feat. Kurious
19. Hero v.s. Villain (Epilogue) Feat. E. Mason
Label: Metal Face Records
Format: Vinyl, LP, Album, Limited Edition, Reissue, Stereo, Alternate Cover
Receive this record and others like it when you join our monthly subscription box. We handpick records based on your tastes and our eclectic knowledge.