Free UK delivery for orders over £50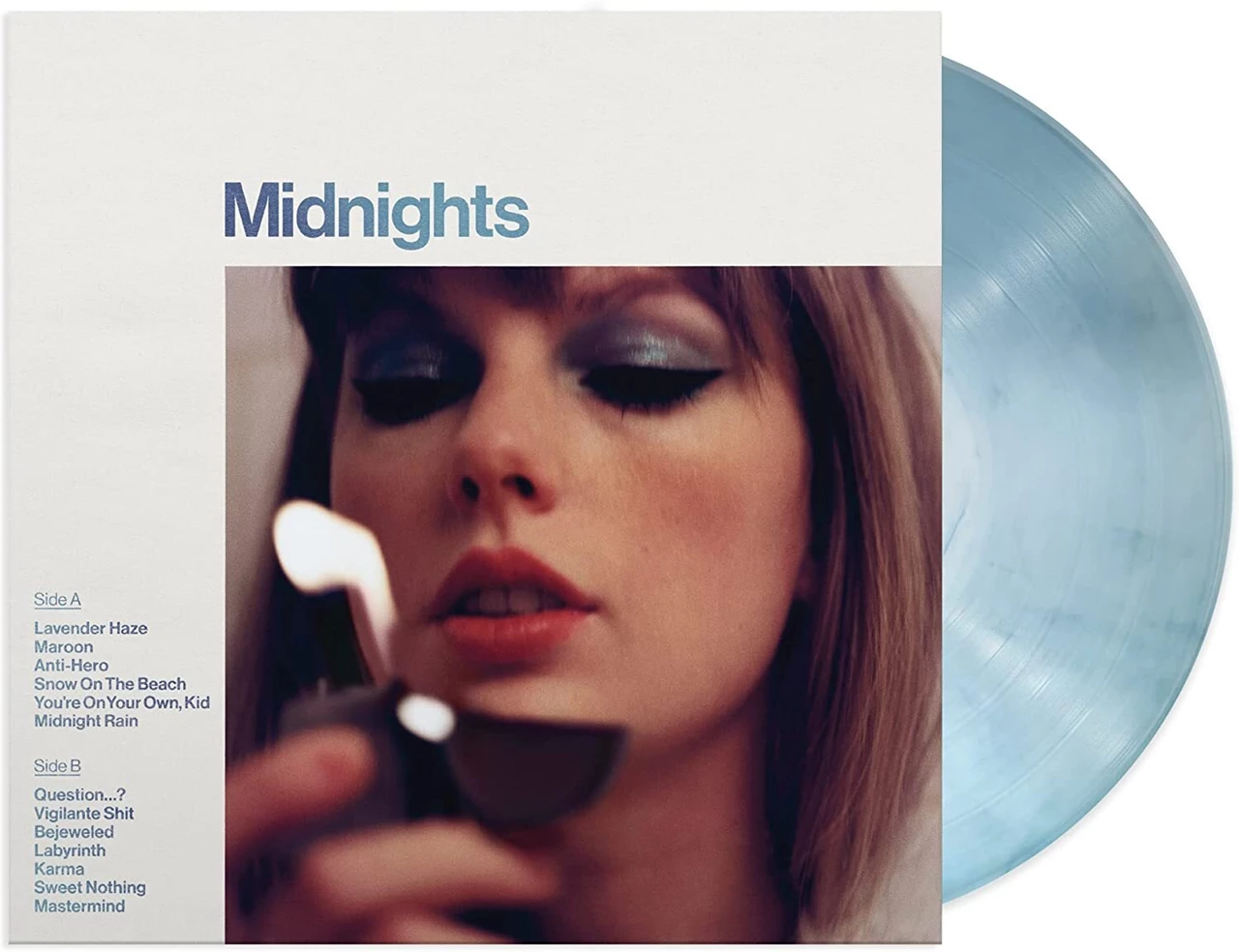 Midnights (Moonstone Blue)
"Midnights" is the tenth studio album by American singer-songwriter Taylor Swift, released on 21 October 2022, through Republic Records. It was announced at the 2022 MTV Video Music Awards and marked Swift's first new body of work since her 2020 albums "Folklore" and "Evermore." The album is a concept work centered around themes of nocturnal introspection and was written and produced by Taylor Swift herself in collaboration with Jack Antonoff.
Inspired by Swift's experiences with sleepless nights, "Midnights" delves into topics such as anxiety, self-criticism, self-awareness, insecurity, insomnia, and self-confidence. The lyrics are both confessional and cryptic, exploring the complexities of these themes. The album explores various musical styles, including chill-out, electropop, dream pop, and bedroom pop. It represents a departure from Swift's previous pop projects and experiments with subtle grooves, analog synthesizers, drum machines, and hip hop/R&B rhythms.
The album's standard tracklist was unveiled through a TikTok series called "Midnights Mayhem with Me," where Swift revealed one track at a time. "Midnights" received widespread critical acclaim for its restrained production, candid songwriting, and vocal delivery. Many publications ranked it among the best albums of 2022. The album was a commercial success, breaking multiple records globally. It achieved the Spotify record for most single-day streams of an album and topped charts in 28 territories.
The lead single, "Anti-Hero," reached number one on the Billboard Hot 100 chart. The album spawned a total of 10 top-ten songs on the Hot 100 chart, a record for any album. Swift also embarked on the "Eras Tour" in 2023 to support "Midnights" and her previous albums.
"Midnights" was noted for its thematic depth, Swift's introspective and candid songwriting, and its departure from her previous musical styles. The album's visual aesthetics, cover artwork, and marketing strategy were also praised by critics. The album was described as a combination of Swift's past musical eras while showcasing her growth and experimentation as an artist. Despite some critiques of the album's production, "Midnights" was widely regarded as a successful and impactful addition to Taylor Swift's discography.
Tracklist
A1 Lavender Haze
A2 Maroon
A3 Anti-Hero
A4 Snow On The Beach
A5 You're On Your Own, Kid
A6 Midnight Rain
B7 Question...?
B8 Vigilante Shit
B9 Bejeweled
B10 Labyrinth
B11 Karma
B12 Sweet Nothing
B13 Mastermind
Style: Synth-pop, Vocal, Indie Pop, Downtempo, Electro
Format: Vinyl, LP, Album, Special Edition, Moonstone Blue Marbled
Receive this record and others like it when you join our monthly subscription box. We handpick records based on your tastes and our eclectic knowledge.