Free UK delivery for orders over £50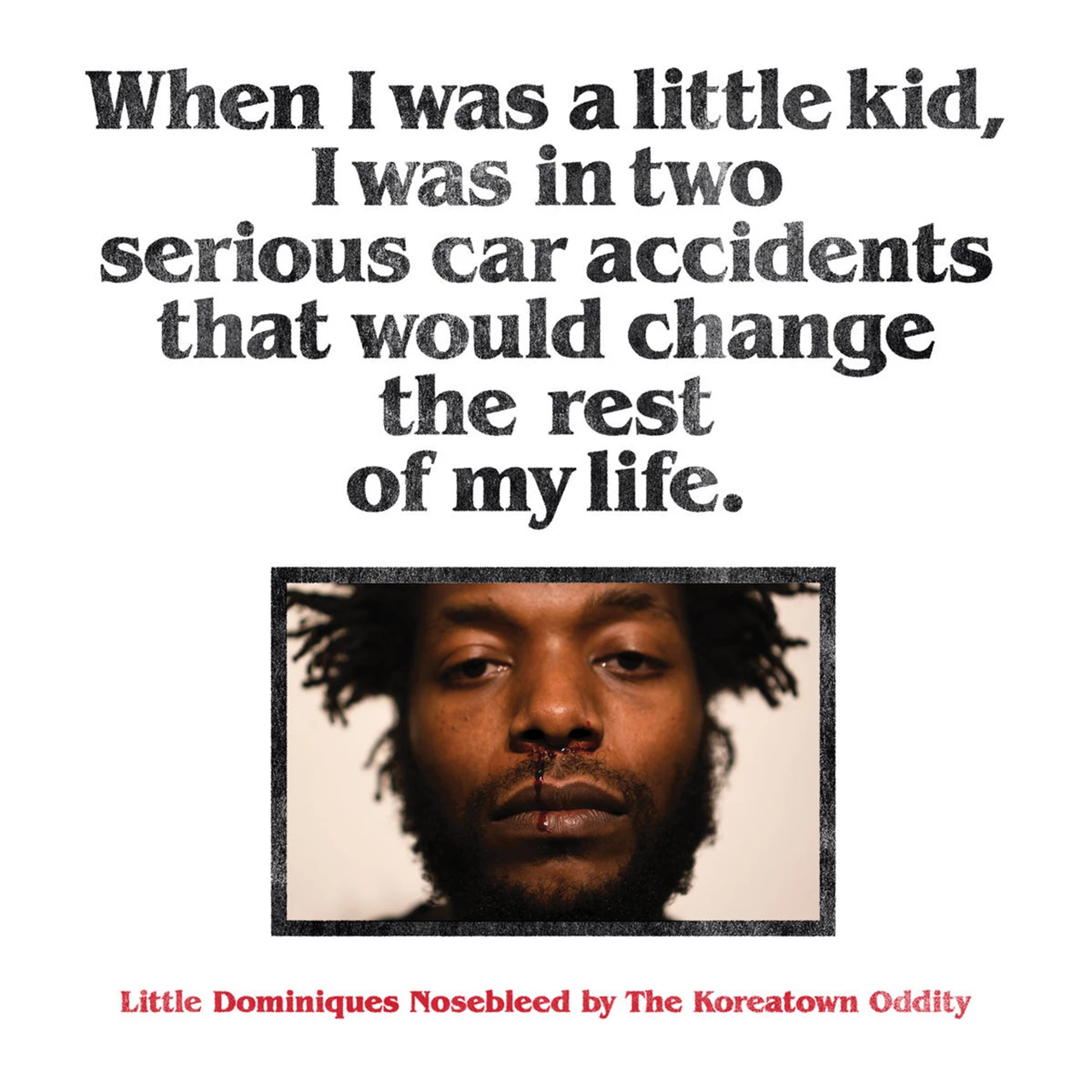 Little Dominiques Nosebleed
"Little Dominiques Nosebleed" by The Koreatown Oddity, released in 2020, is a thought-provoking journey through the artist's experiences and reflections. The album, helmed by Los Angeles-based rapper, producer, and multimedia artist Dominique Purdy, known as The Koreatown Oddity, presents a distinctive blend of introspective lyrics, experimental beats, and innovative storytelling.
Originating from Koreatown in Los Angeles, The Koreatown Oddity is known for his unconventional approach to hip-hop. "Little Dominiques Nosebleed" serves as a testament to his unique perspective and artistic evolution.
The album intricately weaves personal anecdotes, social commentary, and imaginative narratives. Tracks like "Attention Challenge" showcase The Koreatown Oddity's reflective lyricism, delving into issues of identity and self-discovery.
Critics lauded the album's originality and lyrical depth. Pitchfork praised its "intricately detailed lyrics and offbeat instrumentals," while NPR noted its "blend of cosmic jazz, boom-bap beats, and unfiltered personal reflections."
The album's experimental production style is evident in tracks like "Ginkabiloba" that merge jazz, electronic, and hip-hop elements. The Koreatown Oddity's ability to blend these disparate influences creates a distinctive sonic landscape.
"Little Dominiques Nosebleed" serves as an exploration of The Koreatown Oddity's multifaceted identity and artistic vision. The album's seamless shifts between introspection and storytelling demonstrate his prowess as both a rapper and a storyteller.
With "Little Dominiques Nosebleed," The Koreatown Oddity presents an album that transcends traditional hip-hop boundaries. The album's genre-blending production, poignant lyricism, and fearless exploration of personal narratives affirm The Koreatown Oddity's standing as an artist who continually pushes the boundaries of the hip-hop genre.
Tracklist
A1 Lookin Back From The Future
A2 Little Dominiques Nosebleed
A3 Koreatown Oddity
A4 Chase The Spirit
B5 Darknesses Interlude
B6 Ginkobiloba
B7 Weed In LA
B8 Little Dominiques Nosebleed Pt. 2
B9 A Bitch Once Told Me
C10 No Llores
C11 Attention Challenge
C12 Kimchi
D13 The World's Smallest Violin
D14 We All Want Something
D15 Lap Of Luxury
D16 Little Dominiques Nosebleed Outro
Label: Stones Throw Records
Format: Vinyl, LP, Album, Limited Edition, Stereo, undefined
Receive this record and others like it when you join our monthly subscription box. We handpick records based on your tastes and our eclectic knowledge.