Free UK delivery for orders over £50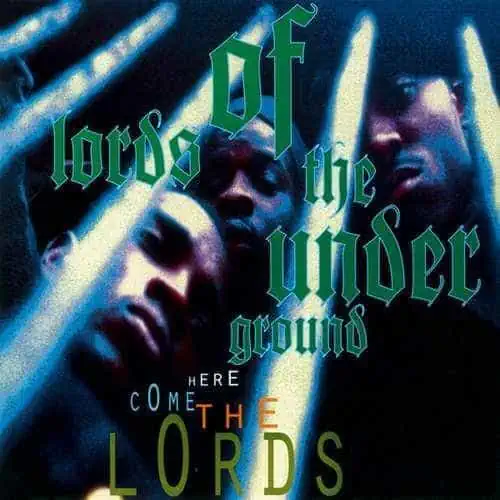 by Lords of the Underground
"Here Come the Lords" stands as the debut opus of American hip hop triumvirate Lords of the Underground, making its resonant entrance on 30 March 1993.
Originating from Newark, New Jersey, the group's inception occurred in 1988 when emcees Mr. Funke and DoItAll Dupré joined forces with DJ Lord Jazz (a Cleveland native).
The sonics of "Here Come the Lords" unfurls a hip hop panorama skillfully threaded with jazz, funk, and soul. The album's signature lies in its distinctive cadences of Mr. Funke and DoItAll, infectious samples, and DJ Lord Jazz's boundary-pushing production.
The album boasts a lineup of resonant tracks, including the resonating singles "Chief Rocka," "Funky Child," and "Madd Skillz." These tracks ascended the ranks of success, cementing Lords of the Underground as a force to be reckoned with in the East Coast hip hop realm with Spin calling the album "one of the most consistent East Coast rap records from a year of boom-bap abundance."
Tracklist
A1 Here Come The Lords
A2 From Da Bricks - feat Jam-C
A3 Funky Child
B1 Keep It Underground
B2 Check It (Remix)
B3 Grave Digga
B4 Lords Prayer
C1 Flow On (New Symphony) - feat Kid Deleon, Sah-B
C2 Madd Skillz
C3 Psycho
C4 Chief Rocka
D1 Sleep For Dinner
D2 L.O.T.U.G. (Lords Of The Underground)
D3 Lord Jazz Hit Me One Time (Make It Funky)
D4 What's Goin' On
Format: Vinyl, LP, Album, Reissue, 180 Gram
Receive this record and others like it when you join our monthly subscription box. We handpick records based on your tastes and our eclectic knowledge.