Free UK delivery for orders over £50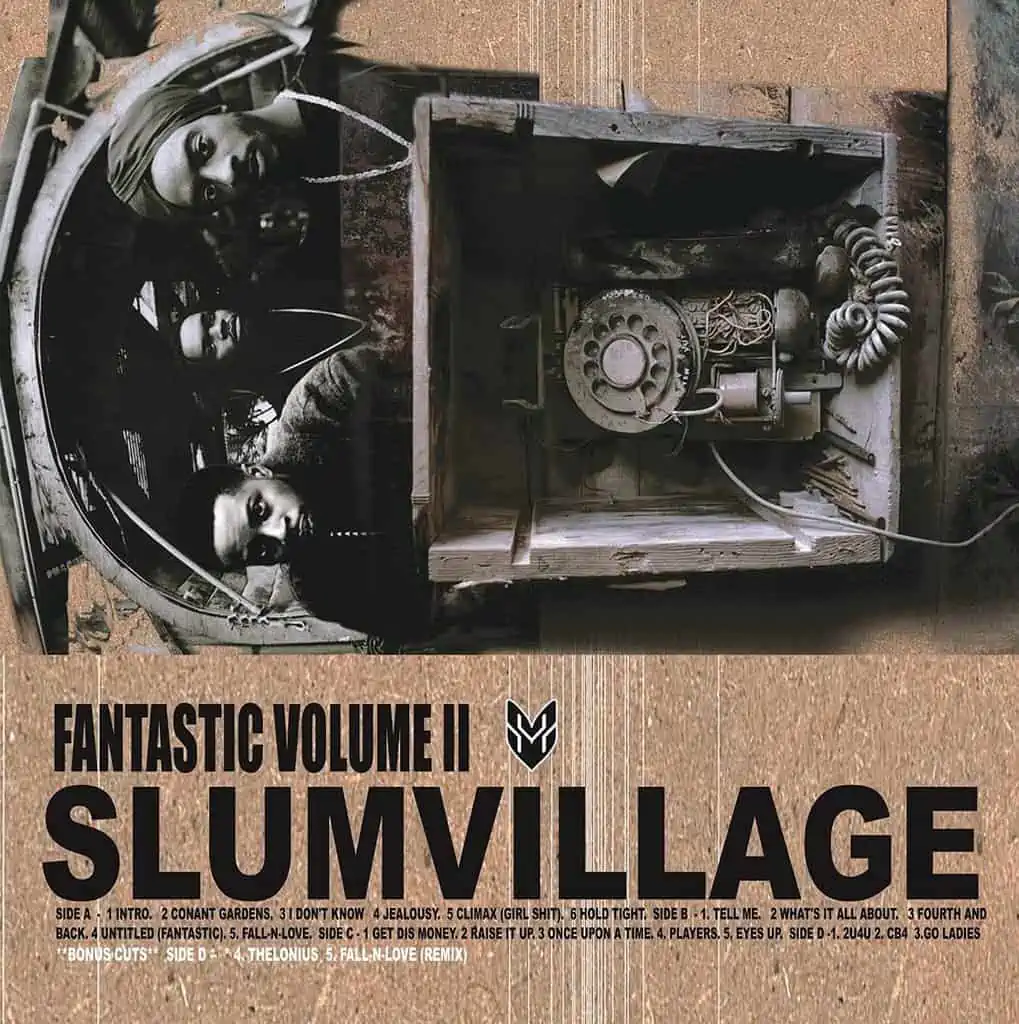 Fantastic, Vol. 2 is the second album by Detroit-based hip hop legends Slum Village. Released in June 2000, the group was still composed of its original members: T3, Baatin, and J Dilla.
The album was initially completed in 1998 for A&M Records shortly before the label became obsolete, leaving Slum Village in limbo for over a year. During this period, however, the group's producer Jay Dee greatly increased his profile through work with artists such as Common, Busta Rhymes, Erykah Badu and A Tribe Called Quest. At the same time tremendous acclaim from notables such as Questlove of The Roots and Q-Tip built up anticipation for the long-delayed LP.
Slum Village eventually found an outlet with Goodvibe Recordings & Barak Records, and released Fantastic, Vol. 2 in summer 2000. Although sales were slow (due to heavy bootlegging) the group nevertheless had a huge impact on the underground circuit and were proclaimed torch-bearers for the departing A Tribe Called Quest. In particular Jay Dee's much lauded production work, full of subtle grooves and soul claps, was a blueprint for the direction that neo soul would take in the coming years.
The album received highly positive reviews and acclaim upon its release. The Phoenix New Times, for example, commented that "[Jay Dee's] production style has been subtly influencing better-recognized producers for years" and even went as far as to claim that "Slum Village is going to single-handedly save rap music".
The group themselves have since acknowledged the impact this record had, and while they benefited greatly from it, it has also overshadowed their later, though more commercially successful work.
The twelfth track "Get Dis Money" was originally featured on the soundtrack to the 1999 Mike Judge cult film Office Space. The second track "Conant Gardens" was featured in the 2002 Frankie Muniz film Big Fat Liar as well as the 2003 Steve Martin film Cheaper by the Dozen.
Tracklist
1. Intro
2. Conant Gardens
3. Climax (Girl Shit)
4. Jealousy
5. Hold Tight
6. Tell Me
7. I Don't Know
8. What It's All About
9. Forth & Back
10. Untitled/Fantastic
11. Fall In Love
12. Get Dis Money
13. Raise It Up
14. Once Upon A Time
15. Players
16. Eyes Up
17. 2U4U
18. CB4
19. Go Ladies
Label: Ne'Astra Music Group
Format: Vinyl, LP, Album, Limited Edition, Reissue
Receive this record and others like it when you join our monthly subscription box. We handpick records based on your tastes and our eclectic knowledge.