Free UK delivery for orders over £50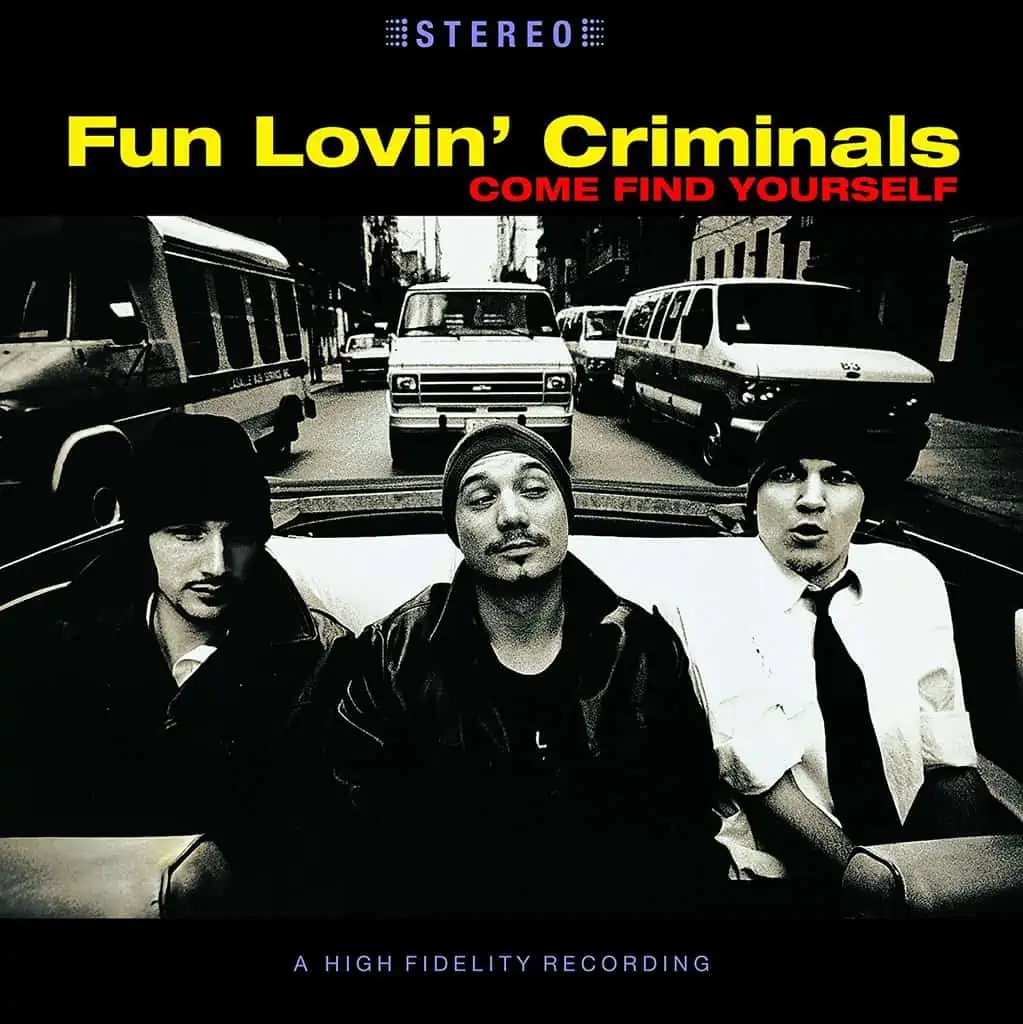 "Come Find Yourself" by Fun Lovin' Criminals, released in 1996, serves as a defining album that embodies the band's fusion of rock, hip-hop, and funk influences. With a unique and irreverent style, Fun Lovin' Criminals made their mark on the music scene with this debut album.
Hailing from New York City, Fun Lovin' Criminals, led by Huey Morgan, captured attention with their unconventional blend of genres. Their distinctive sound and laid-back swagger quickly resonated with audiences looking for something fresh and engaging.
"Come Find Yourself" is a testament to the band's eclectic influences. The album features an array of styles, from the groovy hip-hop-infused "Scooby Snacks" to the rock-tinged "The Fun Lovin' Criminal." The seamless integration of these genres creates a dynamic listening experience.
Critics praised the album for its genre-blurring approach. AllMusic commends the band's "smart, energetic fusion of hip-hop, rock, and blues," and NME hails their "astute sense of classic rock history."
Tracks like "King of New York" and "Smoke 'Em" exemplify the band's knack for catchy hooks and memorable storytelling. The album's witty lyrics and playful references add a layer of humour that complements its musical diversity.
"Come Find Yourself" captures the essence of the mid-1990s music landscape. The album's infectious rhythms, laid-back attitude, and mix of genres reflect the spirit of the era. Fun Lovin' Criminals' ability to navigate various styles and narratives sets them apart as a band that defies easy categorisation.
With "Come Find Yourself," Fun Lovin' Criminals established themselves as boundary-pushers in the music world. Their embrace of diverse genres, witty lyricism, and charismatic presence made this debut a standout release. The album's blend of rock, hip-hop, and funk influences showcases the band's creativity and sets the stage for their enduring career.
Tracklist
A1 The Fun Lovin' Criminal
A2 Passive/Aggressive
A3 The Grave And The Constant
A4 Scooby Snacks
A5 Smoke 'Em
A6 Bombin' The L
A7 I Can't Get With That
B1 King Of New York
B2 We Have All The Time In The World
B3 Bear Hug
B4 Come Find Yourself
B5 Crime And Punishment
B6 Methadonia
Style: Alternative Rock, Blues Rock
Format: Vinyl, LP, Album, Reissue, 180 Gram
Receive this record and others like it when you join our monthly subscription box. We handpick records based on your tastes and our eclectic knowledge.