Free UK delivery for orders over £50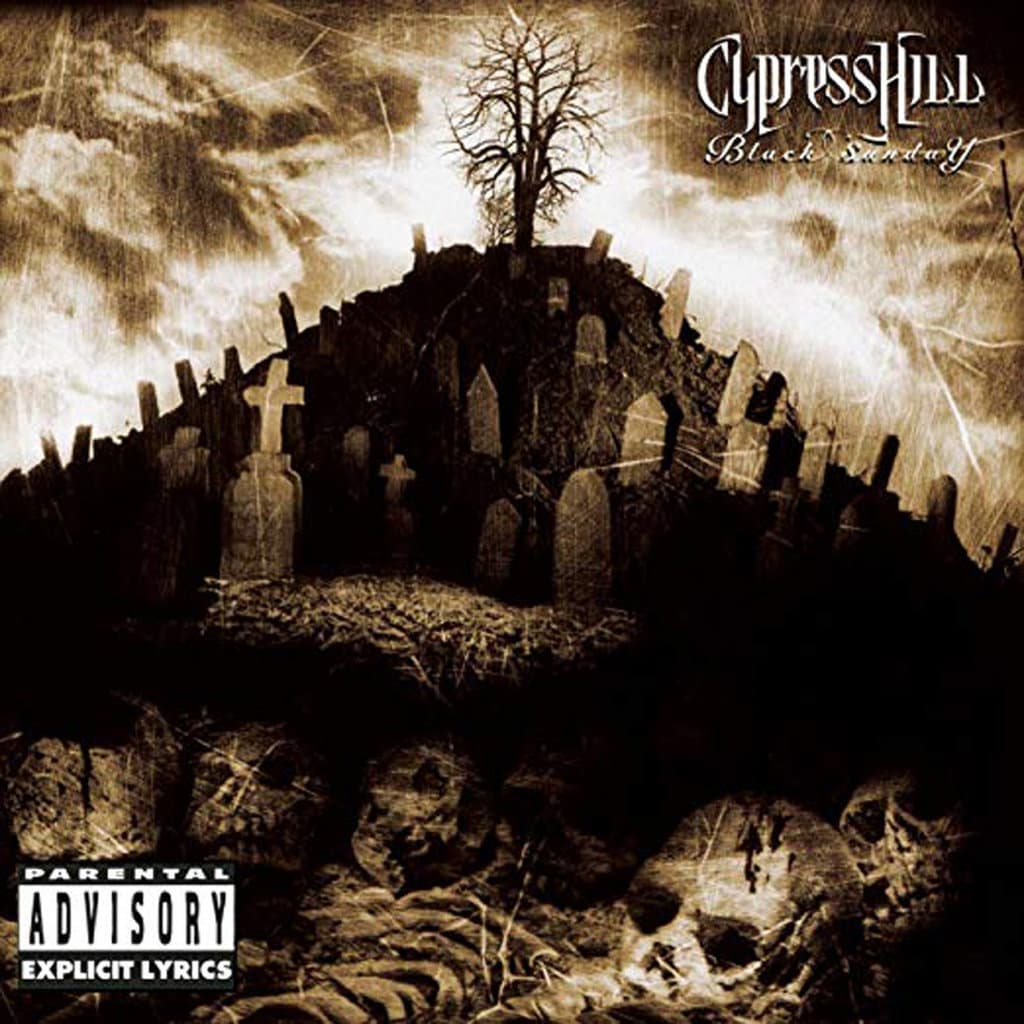 "Black Sunday" emerges as the inaugural opus from the American hip hop ensemble Cypress Hill, making its resonant debut on 1 August 1993, under the aegis of Columbia Records.
Originating from South Gate, California in 1988, the group's formation unfolded with the convergence of rappers B-Real, Sen Dog, and DJ Muggs. The ensemble's chosen moniker, "Cypress Hill," pays homage to the eponymous neighborhood in South Gate.
"Black Sunday" unfurls as a hip hop masterpiece, meticulously interweaving elements of gangsta rap, reggae, and funk into its sonic fabric. The album's signature rests in its foreboding and intense sound, characterized by B-Real's inimitable rapping style and DJ Muggs's trailblazing production.
Among the album's standout tracks are the compelling singles "Insane in the Brain," "The Phuncky Feel One," and "When the Sh*t Goes Down." These singles garnered substantial acclaim, serving as the bedrock upon which Cypress Hill solidified their stature within the pantheon of West Coast hip hop.
"Black Sunday" earns plaudits for its potent and intense sound, B-Real's distinctive vocal approach, and DJ Muggs's groundbreaking production. Rolling Stone magazine hails it as "one of the greatest hip hop albums of all time."
Jon Pareles of The New York Times aptly encapsulates the album's essence:
"Black Sunday" embodies a riveting and disquieting soundscape. It stands as a pivotal marker within hip hop, a genre that has faced its share of accusations of simplicity and superficiality. Cypress Hill's offering irrefutably demonstrates that hip hop can rival any other musical form in terms of complexity and profundity.
The album's highlights encompass its intense and ominous sound, B-Real's distinctive vocal stylings, and DJ Muggs's innovative production. A mandatory auditory expedition for aficionados of hip hop, "Black Sunday" maintains its hallowed status as a timeless classic and a beacon of West Coast hip hop mastery.
Tracklist
A1 I Wanna Get High
A2 I Ain't Goin' Out Like That
A3 Insane In The Brain
B1 When The Sh-- Goes Down
B2 Lick A Shot
B3 Cock The Hammer
C1 Lil' Putos
C2 Legalize It
C3 Hits From The Bong
D1 What Go Around Come Around, Kid
D2 A To The K
D3 Hand On The Glock
D4 Break 'Em Off Some
Catalogue No.: 88985434451
Format: Vinyl, LP, Album, Reissue, 180 Gram
Receive this record and others like it when you join our monthly subscription box. We handpick records based on your tastes and our eclectic knowledge.