Free UK delivery for orders over £50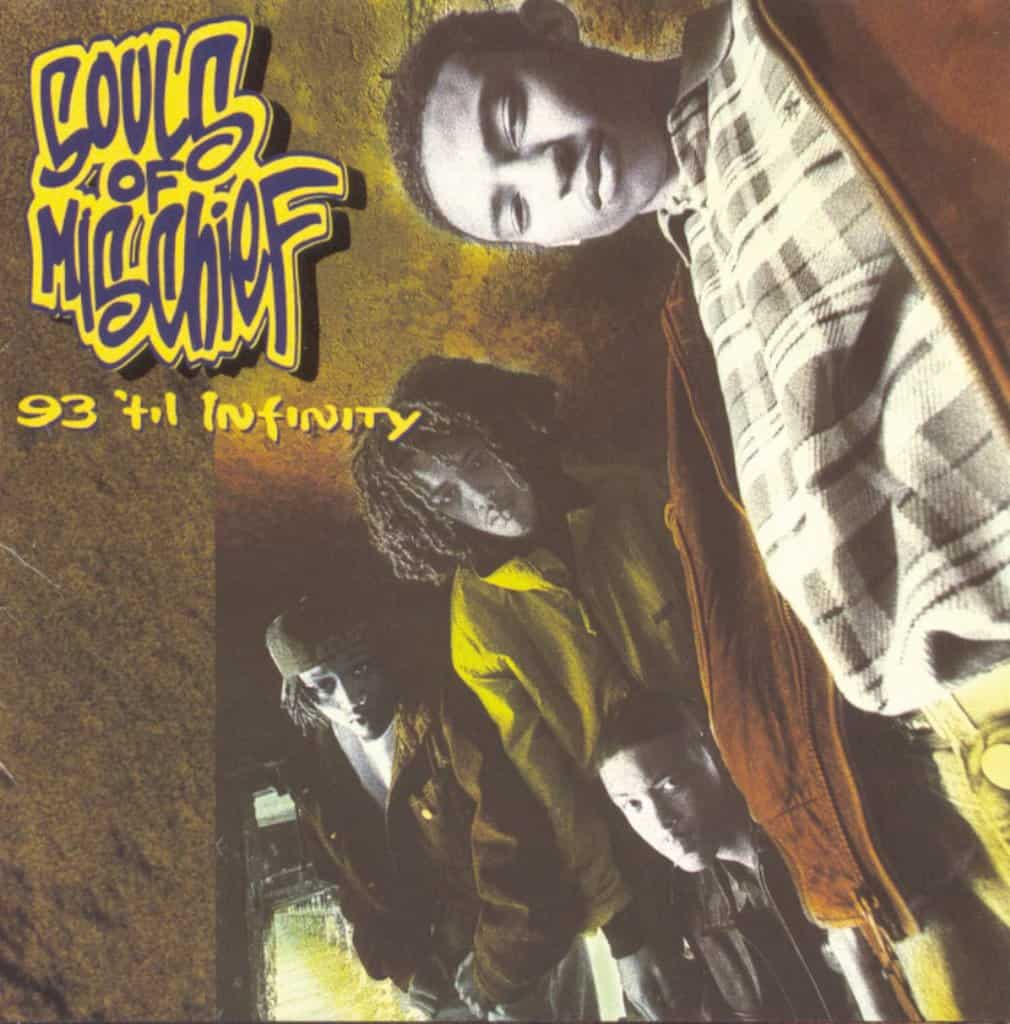 Double vinyl remastered from the original masters and pressed extra loud for DJs. There are very few albums across any genre that stand the test of time better than 93 'Til Infinity, the classic debut record from the Hieroglyphics crew's very own Souls of Mischief.
In an era where Gangsta Rap and G-Funk dominated the West Coast Rap scene, Souls broke ground on a completely unique and thoroughly west coast sound. While the Dr. Dre's and the Snoop Dogg's were garnering much of the mainstream attention, Souls were quietly forging a charismatic, critically acclaimed, and cohesively shaped record that when categorised, sounded much closer to A Tribe Called Quest than N.W.A. The sound of their debut is characteristic of the distinct style explored by the collective, including a rhyme scheme based on internal rhyme and beats centered around a live bass and obscure jazz and funk samples.
93 'Til Infinity was propelled into success by its title track and lead single, which reached #32 on the Billboard Hot 100. It also featured singles "That's When Ya Lost" and "Never No More" which also reached the Hot Rap Singles.
In 1998, the album was selected as one of The Source's 100 Best Rap Albums of All Time. Considered by many to be a text book "slept-on" classic Rap record, 93 'Til Infinity has only grown better with age. The album simply defines the Hiero golden age with a sound that would later be fine tuned with strong releases from MCs Del The Funkee Homosapien, Casual and Pep Love. It takes some serious bravado to name your album 93 'Til Infinity, but certainly the goal of creating a Hip Hop "classic" must have been on the collective minds of group members A-Plus, Tajai, Opio, and Phesto when recording this landmark moment in Hip Hop history.
It's true, even seventeen years after the album's initial release many people are still discovering it, and with this re-mastered reissue on double vinyl, fans all over the world will once again discover the brilliance that 93 'Til Infinity delivers and will continue to deliver beyond infinity.
Tracklist
1. Let 'Em Know
2. Live And Let Live
3. Thats When Ya Lost feat. Pep Love
4. A Name I Call Myself
5. Disseshowedo
6. What A Way To Go Out
7. Never No More
8. 93 'Til Infinity
9. Limitations feat. Casual and Del Tha Funkeé Homosapien
10. Anything Can Happen
11. Make Your Mind Up
12. Batting Practice
13. Tell Me Who Profits
14. Outro
Catalogue No.: TEG78504LP
Label: Traffic Entertainment Group
Format: Vinyl, LP, Album, Reissue, Remastered, undefined
Receive this record and others like it when you join our monthly subscription box. We handpick records based on your tastes and our eclectic knowledge.